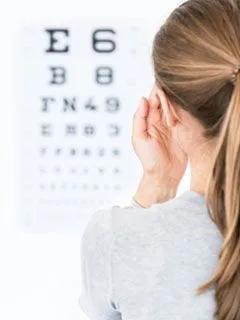 At Family Vision, we understand that people differ in their eye care needs. That's why we personalize our eye care services for each of our patients. Our center caters to the needs of children, from infancy to pre-teen years, adolescents, and adults, including elderly seniors. For your convenience, we serve residents in Williamston, Anderson, and Clemson, SC. Here's what you can expect from our dedicated optometrist and optometry team.
Eye Exams
Our comprehensive eye exams test for eye health, visual clarity, eye focus, and eye teaming skills. If you're having problems in any of these areas, we'll uncover the cause during an eye exam. Many times, vision problems are due to refractive errors like myopia or farsightedness, which can be corrected with prescription eyewear or contacts to give you clearer sight. Annual eye exams enable us to keep up with changes in your vision to ensure you're enjoying the optimal sight.
Children, in particular, need routine eye checkups to ensure they're seeing as well as they should. Our pediatric eye care services uncover problems with childhood myopia, cross eyes, or lazy eye, so your children can get the treatment they need to improve their vision. Good vision can help children succeed in school as well as keep them safe from accidents.
Eyeglasses & Contact Lenses
If you need prescription eyeglasses or contacts, we can fill that need at Family Vision. We have an extensive inventory of name-brand eyeglass frames in all colors, sizes, styles, and designs to pair with high-tech lenses that match your prescription. We'll help you choose eyewear that enhances your appearance, suits your lifestyle, and falls well within your budget.
If you'd rather have contact lenses, we'll schedule a contact lens exam and fitting to help determine the best contacts for you. We carry a wide variety of different types of contacts, including traditional soft lenses and RGP lenses, daily and extended-wear contacts, disposable contacts, and hard-to-fit contacts for people with eye conditions that require special contacts to improve their sight.
Eye Treatments
Your Clemson, SC optometrist offers to screen for eye diseases like glaucoma, macular degeneration, and diabetic retinopathy that can seriously impair your sight. Although these diseases have no cure, we can provide treatment that helps slow the progression of vision loss. We also treat eye infections, dry eye syndrome, and eye injuries to restore your sight.
LASIK Surgery
We offer pre and post-op care for LASIK and other types of eye surgery to help maximize your treatment. We can also refer you to a specialist when needed.
See Your Clemson, SC Optometrist for Quality Eye Care
Call Family Vision today for more information or to schedule an appointment with one of our eye doctors.